Yanase Yuu



Title

Yuu Yanase

Kanji

柳瀬 優

Age

28

Birthday

Family

No information

Height

No information

Occupation

Manga-Ka Assistant

Lover

Chiaki Yoshino (Crush)

Voiced by

Hiroshi Kamiya

Anime and Manga Debut

Episode 5
Yanase Yuu is a supporting of characters in the anime Sekai-Ichi Hatsukoi. He is voiced by Hiroshi Kamiya
Appearance
Edit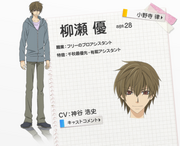 Yuu has medium shaded brown hair and light maroon eyes. 
Relationship

Edit
Yuu has known Hatori since junior high. Automatically, the two do not have a very good relationship. Everytime they meet, there will be a tension between them which is easily noticed. The reason for why they don't get along is because they are both in love with Chiaki.
Yuu has known Chiaki since junior high. It is known that Yuu has a crush on Chiaki, however, Chiaki only considers him as a good friend. They quarrel quite often. Chiaki would always rely on Yuu, saying that Yuu always does things correctly.