"The die is cast" is the ninth episode of the Sekai-Ichi Hatsukoi anime series. It revolves around Kisa Shouta and Kou Yukina.
Kisa freaks out and cannot concentrate on his work because of his constant flashback to the scene with Yukina at the cafe. He soon receives an e-mail from Yukina inviting him to the bookstore to see the book promotion display stand that they planned earlier. This reminds Kisa of the kiss and he throws himself into a brief depression after convincing himself that Yukina cannot be serious about the kiss. He gets even more down after belittling himself career-wise by comparing his achievements to Takano's. 
After work, Kisa subconsciously arrives at the bookstore, where Yukina shows him the display stand and tells him that the reason he worked so hard on the display was because of Kisa. Noticing that Kisa has been trying to avoid him, Yukina invites him to talk after he finishes work.
As Kisa waits for Yukina outside the store, he encounters his ex-lover. The man finds out about Kisa's feelings for Yukina and threatens to expose him. But Yukina intervenes, suddenly appearing and chasing the man off by claiming himself to be Kisa's boyfriend.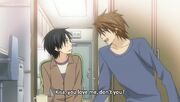 Kisa and Yukina end up in Yukina's house, where Yukina finds out that Kisa was in charge of editing all his favorite manga. He then surprises Kisa by telling him how he knows about Kisa's feelings for him from the start, but when he begins to talk about the kiss Kisa immediately interrupts him by saying that he does not care, which triggers an unexpected response from Yukina, who confessed his love for Kisa.
Afterwards, Kisa receives notice that his book is getting a second printing, and when Yukina tells him that he loves him after Kisa notified Yukina of the news, Kisa decides that he has fallen in love despite the fact that he claims he can only like men's faces.