Takano Masamune



Title

Takano Masamune

Saga Masamune

Mr. Next-Door Neighbor

The Capable

Kanji

Takano Masamune: タカノ マサムネ

Saga Masamune: サガ マサムネ

Age

High School: 17

Present Time: 27

Birthday

December 24

Family

Unnamed Father; Mother - Kotoko Saga

Non-Biological father

Cat: Sorata

Height

186cm

Occupation

Editor-in-chief in Marukawa Emerald

Former Shounen editor

Lover

Ritsu Onodera (Current Lover)

Takafumi Yokozawa (Former lover, business partner)

Unnamed girlfriend from high school (ex)

Voiced by

Katsuyuki Konishi

Anime and Manga Debut

Anime: Episode 1

Manga: Chapter 1
Takano Masamune (高野 政宗), formerly Saga Masamune (嵯峨 政宗), is one of the main characters in Sekai-ichi Hatsukoi. He is currently the Editor-in-chief at the Emerald department. People call him "the Capable".. He is voiced by Katsuyuki Konishi.
Apperance
Edit
Takano has short, slick black hair. He is tall, like most of the male characters in the series, approximately

186cm. As a high school student, he rarely showed any emotion. He also usually wears black square rounded glasses while working, has light brown eyes, and long eyelashes (according to Ritsu). His name was Saga Masamune but after his parents' divorce, it has been changed to Takano Masamune. Takano rarely smiles unless he is alone with friends or meeting with an author.
Takano is from a wealthy family, but his parents were under-going separation. His mother is a lawyer and his father is a surgeon and they leave Takano to live alone because of work. They give him expenses each month as he lives alone. During his days at high school, Takano stayed in the school library where he could read books until the library closed since he didn't want to be home, knowing that his parents would be there fighting, and it was boring at home. His parents came home one night, not looking at each other. Because his parents high paying jobs, they are able to give Takano as much money as he wants for food and the house. His mother asks where he found the cat and Takano explains that he found Sorata, and took him in when the reason was because he was lonely, his mother argues that she hates animals. He laterstates later to Ritsu that "it's better with the cat around."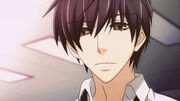 He first see's Ritsu Onodera trying to grab a book that was out of his reach. Saga, being taller than Ritsu, helps him and Ritsu thanks him; this was the start of Ritsu's first love. Three years later, Saga and Ritsu both meet again by grabbing the same book. Ritsu confesses his love for Saga, to which Saga replies by saying he didn't mind going out with him, much to Ritsu's surprise. After school, Saga invites Ritsu to come to his house where Ritsu spots his cat.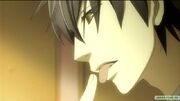 Saga tells Ritsu to meet him at his room where he will get some tea. After Saga brings Oolong tea, he asks Ritsu why he loves him, curious out of the fact Ritsu didn't know a thing about him. Ritsu tells Saga that though he didn't know much about Saga, he knew a couple things here and there, such as the time Ritsu saw him rescuing a abandoned cat while no one seemed to care about it. Saga ask Ritsu if he's a stalker out of embarrassment of being caught in a "scene straight out of a shojo manga," but it ended the conversation. Later, Saga moves slightly toward to Ritsu and almost gives him a kiss before Ritsu pushes him away, caught off-guard. Saga asked if that was what Ritsu wanted to do with him and he kisses Ritsu on the lips. Late at night, Saga makes love to Ritsu in his bedroom, and Saga finally says Ritsu's name and tells him that he loves him. The two later hang out more often since that night, even staying at the school library until closing time. The two later realize that they must really be in love with each other. One day, Ritsu leaves, apparently round-house kicking Saga, then disappearing without saying a word to him, which makes him wonder that Ritsu didn't want to be with him anymore. Saga's parents were officially divorced and Saga went with his mother to her home town and when their name was changed. He meets Takafumi Yokozawa in college, and the two become close friends, later even getting into a relationship during their college years together. Takano, still affected by Ritsu's sudden disapearance, as well as many other overhanging, uncomfortable factors, started drinking. That was when Takafumi told himself that he would protect Takano.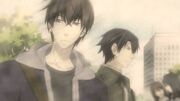 Before Takano worked at Marukawa, Takano worked as a shounen editor at the company Shuudanka; but later quit because he didn't feel like it was the right place for him to be in and he wasn't allowed to do anything he felt was right. It was later when he worked at Marukawa as a Shojo editor with the help from Yokozawa.
Ten years has passed since Takano last saw Ritsu. Now working at Marukawa, he finds out that he will be having a new editor in the team. Now knowing the name is Ritsu Onodera, Takano becomes suspicious that he is the person he loved for ten years.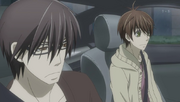 After Ritsu's first full time work as a editor ends with a sucess, Takano tells him that he hasn't changed for the last ten years. Ritsu tells Takano to stop joking around when he was given a surprise kiss until Takano tells him that his name was Saga Masamune but was changed to Takano Masamune after his parent's divorce, which startles Ritsu. Takano tells Ritsu that he will make him love him again. It even gets worse when Ritsu finds out that Takano is his next door neighbor. Takano would invite himself into Ritsu's apartment coming up with the reason that he is his boss.
For being the Editor-in-Chief of Marukawa, he is harsh on everyone, but all the editors are extremely loyal to him.
Relationships
Edit
Ritsu is currently Takano's next door neighbor and assistant at Marukawa. Ritsu was Takano's first love and they dated back in high school. They broke up after due to a misunderstanding and Ritsu suddenly disappears to study abroad.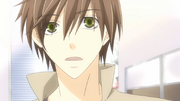 Takano lost all contact to Ritsu after desperately searching for him until he had to leave with his mother since his parents were divorced. Ten years later, Takano finds out that a man named Ritsu will be working in Marakawa. Takano and Ritsu confront each other and the misunderstanding in their past. Takano declares that he will make Ritsu say he loves Takano and fall in love with him again. After a talk while waiting for the rain to calm down, Takano later tells Ritsu that it's not his fault that they broke up due to his family problems and other personal issues.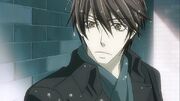 Though Takano and Ritsu get into many arguments about the past and work, Takano deeply cares about Ritsu though Ritsu doesn't see how much Takano really cares about him. Takano calls Ritsu by his first name only where they are alone together, while he calls him by his last name or noobie while they are working.
Takano later becomes very worried about Ritsu's health, due to the fact that Ritsu came to work and looked extremely pale. Ritsu insisted that he is fine until he collapsed while talking to Isaka. Takano finds out that Ritsu neglected his health: a cold from overwork and malnutrition from drinking nothing but energy drinks and eating pudding. Takano insists that he cooks Ritsu full meals for now on.
He and Takano are good friends and have been working together for a couple of years. They met during their university years. They briefly dated; however, Takano rather they be friends and nothing more. Takafumi helped Takano out of his problems from being left by Ritsu which is the reason why Takafumi is cruel to Ritsu. Takafumi was the one who helped Takano get a his job at Marukawa which makes Takano respect him. He is also in charge of taking care of Takano's cat, Sorata, since Takafumi claims if Takano can't take care of himself, he couldn't take care of a pet.
Takano's family has never been a nice loving one. His parents would ignore him due to their jobs and make him live alone with Sorata. Because of their high paying jobs, Takano was able to have all the money and care he needed to take care of himself.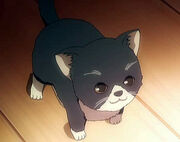 Sorata is Takano's adopted cat. Sorata was saved by Takano ten years ago on a rainy day while everyone was ignoring it, but he was the only one that notices and takes Sorata home. Even if Takano's parents hated animals, he didn't listen and took Sorata in his care. Sorata was last seen as a full-grown cat and is currently being cared by Yokozawa.
His favorite food is meat.