Sorata (空汰) is a cat which was rescued by Masamune Takano when Takano was in high school.
Sorata's first family is unknown but he had been abandoned nearby an alley way that soon became a watered down box. Takano was the only one who had been willing to take it to safety after hearing its cry and took him into his house.
Sorata is later seen 10 years later, as an old fully grown cat, in the care of Yokozawa. He soon goes into the care of Hiyori, Kirishima's daughter who had desperately wanted a cat of her own, due to Yokozawa's intense working career that took away time to care for Sorata like before.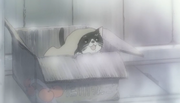 Sorata means "abundant sky" in Japanese. Sora means "sky" and Ta means "thick or abundant".
In the light novel The Case of Takafumi Yokozawa, it is confirmed that Sorata has a crush on Hiyori Kirishma.  
Hiyori later revealed to Yokozawa that, on the days Yokozawa didn't drop by at Kirishimas' house, Sorata would wait at the door in hopes for Yokozawa to drop by. This conversation is brought about by Yokozawa mentioning that Sorata has been acting cold towards him after settling down with his life in Kirishima household. Kirishima Zen commented that both Yokozawa and Sorata are, "like master, like pet", both tsunderes.