Sekai de Ichiban Koishiteru (世界で一番恋してる, lit. Falling in the Greatest Love in the World) is the first opening song in the Sekai-ichi Hatsukoi anime series.
The single was first released on May 11, 2011.[1] It reached #36 on the Oricon charts, and charted for 4 weeks.[2]
The TV size version was included on the Sekai-ichi Hatsukoi Original Soundtrack released later that year in December.[3]
The full version was re-released on the Sekai-ichi Hatsukoi Best Mini-Album on February 26, 2014.[4]
Lyrics (TV size)
Edit
English translation
Edit
Source: AnimeLyrics[5]
The concept of passion is so full of unknown numbers.
A strong reflexive magnetic force is pulling us closer.
Nimbly crossing over the borderline of rationality,
ever since the day you appeared in my life, I can't turn myself away.

Be it my mischievous fate or my brawling emotions,
things such as logic simply do not apply to them.
If I reach out my hand, will I understand these first feelings of mine?

I'm in love with you, the greatest person in the world.
At the tick of every second, I like you more and more.
We are still far from a happy ending,
but I want to make it come true! (first love)
The story of the two of us continues.
jounetsu tte kyuu ni wa michisuu sugiru
hanshateki hikiau youna tsuyoi jiryoku
risei no BOODAARAIN karuku koete
arawareta sono hi kara sorasenai

itazurana unmei konsenchuu no kanjou ni
ikutsu toka tsuyoushinainda
te wo nobaseba wakaru
hajimete no kimochi

sekai ichi kimi ni koi wo shiteru
ichibyou goto motto suki ni naru
HAAPI ENDO ni wa mada tooi
kanaetai yo (first love)
futari dake no SUTOORII
tsuzuite yuku

情熱っていうには 未知数すぎる
反射的引きあうような 強い磁力
理性のボーダーライン 軽く越えて
現れたその日から そらせない

イタズラな運命 混戦中の感情に
理屈とか通用しないんだ
手をのばせばわかる?
はじめてのキモチ

世界一キミに恋をしてる
一秒ごともっと好きになる
ハッピーエンドにはまだ遠い
叶えたいよ (first love)
ふたりだけのストーリー
続いていく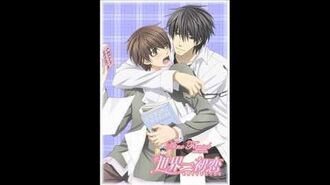 References
Edit
Ad blocker interference detected!
Wikia is a free-to-use site that makes money from advertising. We have a modified experience for viewers using ad blockers

Wikia is not accessible if you've made further modifications. Remove the custom ad blocker rule(s) and the page will load as expected.