Ad blocker interference detected!
Wikia is a free-to-use site that makes money from advertising. We have a modified experience for viewers using ad blockers

Wikia is not accessible if you've made further modifications. Remove the custom ad blocker rule(s) and the page will load as expected.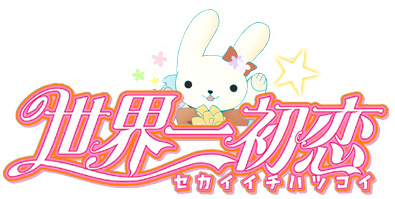 Welcome to Sekai-ichi Hatsukoi Wiki!
A Sekai-ichi Hatsukoi database that anyone can edit!
Vandalism will not be tolerated.
So far we have 101 articles! Contribute to make this wiki better!
About Sekai-ichi Hatsukoi
Sekai-ichi Hatsukoi (世界一初恋), or The World's Greatest First Love, is a Japanese BL series created by Shungiku Nakamura. It began as a manga and light novel series in 2006. In 2011, the manga was adapted into an anime television series, which includes portions of the light novel series as well. It's additionally been adapted into a drama CD series, and has additional content such as radio CDs and character songs performed by the anime voice actors.
The Case of Ritsu Onodera (小野寺律の場合, Onodera Ritsu no Baai) is the main story told in the manga series and the anime adaptation . It follows Ritsu Onodera, a literature editor, as he begins a new job in shoujo manga at Marukawa Publishing. His new boss, Masamune Takano, turns out to be Ritsu's first love from high school.
The Case of Chiaki Yoshino (吉野千秋の場合, Yoshino Chiaki no Baai) is the first light novel series. It follows mangaka Chiaki Yoshino and his developing relationship with lifelong friend and current editor Yoshiyuki Hatori, and the love triangle formed with Yuu Yanase, Chiaki's friend who also vies for Chiaki's affections.
The Case of Shouta Kisa (木佐 翔太の場合, Kisa Shouta no Baai) is a story told in the manga series beginning in 2009. It follows the relationship between Shouta Kisa, a shoujo manga editor, and Kou Yukina, a bookstore employee and fan of Kisa's work.
The Case of Takafumi Yokozawa (横澤隆史の場合, Yokozawa Takafumi no Baai) is the second light novel series which began publication in 2011. It follows the relationship between Takafumi Yokozawa and Zen Kirishima.
Who is your favorite male character?
Sekai-ichi Hatsukoi News
The anime is finished and there are no talks of a new season or installment.
The manga is still ongoing! The eleventh volume was released in Japan on July 1st, 2016.
The fifth volume was released in North America on October 11th, 2016.
The first two seasons of the anime are officially available streaming on Crunchyroll.
We Need Your Help!
Sekai-ichi Hatsukoi wikia needs your help!
How Can You Help?
Add Characters who have not yet been added
Add more information to existing pages
Add summaries to manga volume pages
Edit pages e.g. spelling and grammar
Comment
Featured Character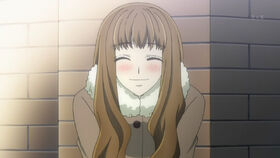 An Kohinata (小日向 杏, Kohinata An) is a supporting character in the Sekai-ichi Hatsukoi series. She is Ritsu Onodera's childhood friend and ex-fiance. Read more!
Featured Episode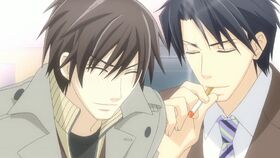 "In Love There is Both Dotage and Discretion" is the third episode of the Sekai-ichi Hatsukoi anime series. The episode revolves around the couple Ritsu Onodera and Masamune Takano.
Although Ritsu has been avoiding Takano to focus on work, feelings of jealousy arise when he sees how close Takano is with Takafumi Yokozawa. Read more!
Create or Search On Sekai-ichi Hatsukoi wiki!
Create a page
Search for a page
Poll Results
Love rival you wouldn't mind seeing succeed?
Yuu Yanase (34, 89.47%)
Arata Haitani (1, 2.63%)
Takafumi Yokozawa (1, 2.63%)
An Kohinata (2, 5.26%)
Which Sekai-ichi Hatsukoi couple is your favorite?
Ritsu and Takano! (62, 46.62%)
All of them! I can't decide! (28, 21.05%)
Kisa and Yukina! (23, 17.29%)
Yokozawa and Kirishima! (15, 11.28%)
Chiaki and Hatori! (5, 3.76%)