"Love is Without Reason" is the sixth episode of the second season of the Sekai-ichi Hatsukoi anime series. The episode introduces the fourth couple Ryuichiro Isaka and Kaoru Asahina.
This episode is an adaptation of the previously unanimated side story from Junjou Romantica, "Junjou Mistake." Originally wanting to be a novelist, editor Ryuichiro Isaka is torn between choosing editing, which he apparently excels at (he can determine which book will perform well in sales), and writing, which he admits (to himself) that he isn't that good at. He is also struggling with his feelings toward his assistant and longtime companion, Kaoru Asahina.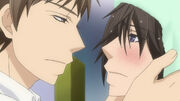 This couple only has one appearance together in the entire show. Their storyline continues in a single stand-alone episode in the Junjou Romantica anime that acts as a sequel to this episode. 
Ad blocker interference detected!
Wikia is a free-to-use site that makes money from advertising. We have a modified experience for viewers using ad blockers

Wikia is not accessible if you've made further modifications. Remove the custom ad blocker rule(s) and the page will load as expected.