"Absence makes the heart grow Fonder" is the tenth episode of the Sekai-Ichi Hatsukoi anime series. It revolves around the couple Yoshiyuki Hatori and Chiaki Yoshino.
After working through the night to finish work, Yoshino and Yuu stay behind together. Yuu prevents Yoshino from falling over the trashcan, and starts to tease him by tickling him. Hatori walks in on the scene and misunderstands. He angrily storms out as Yoshino tries to come up with an explanation. 
Later, Yoshino arrives at Hatori's house and attempts to apologize. However, he instead becomes mad at Hatori when Hatori says he doesn't want Yoshino to have physical contact with Yuu. They make up temporarily in the morning after Yoshino sleeps over. But they get into yet another dispute again when Yoshino reveals that he is going to a hot spring with Yuu, much to Yoshino's confusion.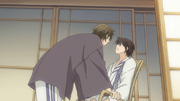 On the night of the hot spring trip, Yoshino is surprised to find out that he forgot that it is his own birthday on that day when Yuu brings it up. This sparks his realization as to why Hatori became upset about his going away on a vacation with Yuu. Briefly after his sudden understanding, he receives an unexpected love confession from Yuu and is unsure how to respond. He is then relieved when a phone call interrupts them, preventing Yoshino from having to answer Yuu.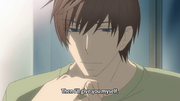 When picking up the phone, he hears it to be from Hatori and goes outside to take it. After hearing a "Happy birthday" from Hatori through the phone, Yoshino suddenly decides to leave the vacation early in order to see Hatori during his birthday before the day ended. He rushes back to Hatori's house, where Hatori is surprised to see him back so soon. They make up when Yoshino lets it slip that he wanted to see Hatori before his birthday officially ended, leaving Hatori happy. Hatori then says that he got Yoshino a present. Yoshino is initially excited, only to instead see a box filled with blank paper for work. When Yoshino expresses his disapproval over such a "gift" for his birthday, remarking he could have given him something more romantic. However, he instead becomes quickly embarrassed when Hatori gives himself to Yoshino as a birthday present.
The next day, Yoshino expresses the idea of adding his personal experience with Hatori as a manga idea to his co-workers. They all laugh at the suggestion, calling such a scene overly cheesy and completely unrealistic. Yoshino silently thinks how he thought it was perfect given how flustered Hatori made him when he suggested it. Hatori then comes in to where, despite Yoshino's attempted protests, they all tell him about it and laugh. Yuu then also expresses his amusement at the idea, inciting anger in Hatori.